A GP Igniter Cord is a fuse designed for use in the mining industry, to light multiple safety fuses pieces in the desired sequence when used in conjunction with igniter shells.
When ignited, an intense flame spits perpendicular to the cord as it burns along its length. The flame of the igniter cord lights the connected igniter shell (sold separately), which ignites a connected safety fuse. Igniter cord allows the blaster to initiate multiple plain detonators from a safe distance from a single point instead of igniting all fuses one by one. It can also be used as an alternative of Thermalite and Mantitor Cord in the fireworks industry if the application conditions are suitable.
This modified GP Igniter cord consists of gunpowder core and is not plastic coated. It is not completely waterproof. It contains a non-ferrous metal wire in its core.
As per Indian Explosives Rules
Class 7, Division 3

Safety Distance Category - "X"

As per UN Regulations
UN 0066
Proper Shipping Name - CORD, IGNITER
Class 1, Division 1.4, Group G
Hazard labels: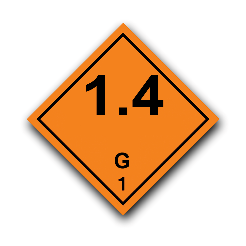 Advantages of GP Igniter Cord
Safe and Reliable
Safe and Reliable
Economical in use
Economical in use
Simple to operate
Simple to operate
Water Resistant
Water resistant
FAQs - GP Igniter Cord Product
FAQs - Transport & Shipping