Visco Fuse or Cannon Fuse is used for ignition of consumer fireworks and other pyrotechnics, it is also known as 'pyrotechnic fuse'. It is a safe, reliable and easy to use means of initiation. Visco fuse is also used to create delays in the rate of firing multiple fireworks linked together, or for firing multiple tubes / cakes in display fireworks to create a burst train.
Our visco fuse is usually 1.8 – 3.0 mm thick with a black powder / gunpowder core. We manufacture visco/cannon fuse in various burning speeds and diameters, as per the users' requirement.
Our products are of international quality and have EX Registration for USA and CE certification and ADR classification approval for Europe.
The construction consists of multiple layers of yarn wrapped around the inner gunpowder core and a top layer of nitrocellulose lacquer to bind the fuse together, and provide water resistance, higher shelf life and stiffness.
Visco fuse / Cannon fuse is easily distinguished from safety fuse as the visco / cannon fuse produces significant sparking flame throughout the length when burning. It is also capable of cross ignition / lateral transmission of flame and is mostly fully consumed as it burns instead of leaving a significant carcass.
As per Indian Explosives Rules
Class 7, Division 3

Safety Distance Category - "X"
 
As per UN Regulations
UN 0336 or 0066 
Proper Shipping Name - FIREWORKS or CORD, IGNITER
Class 1, Division 1.4, Group G
Hazard labels: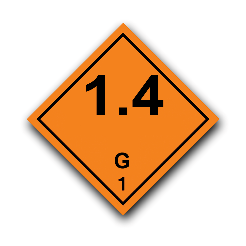 We custom manufacture visco fuse as per users requirement, for Bulk orders.
'Tiger Brand' Visco Fuse / Cannon Fuse
for Sale outside India
Higher Resistance
Water resistant
Simple Operation
Simple to operate
Economical
Economical in use
FAQs - Visco Fuse Product
FAQs - Transport & Shipping